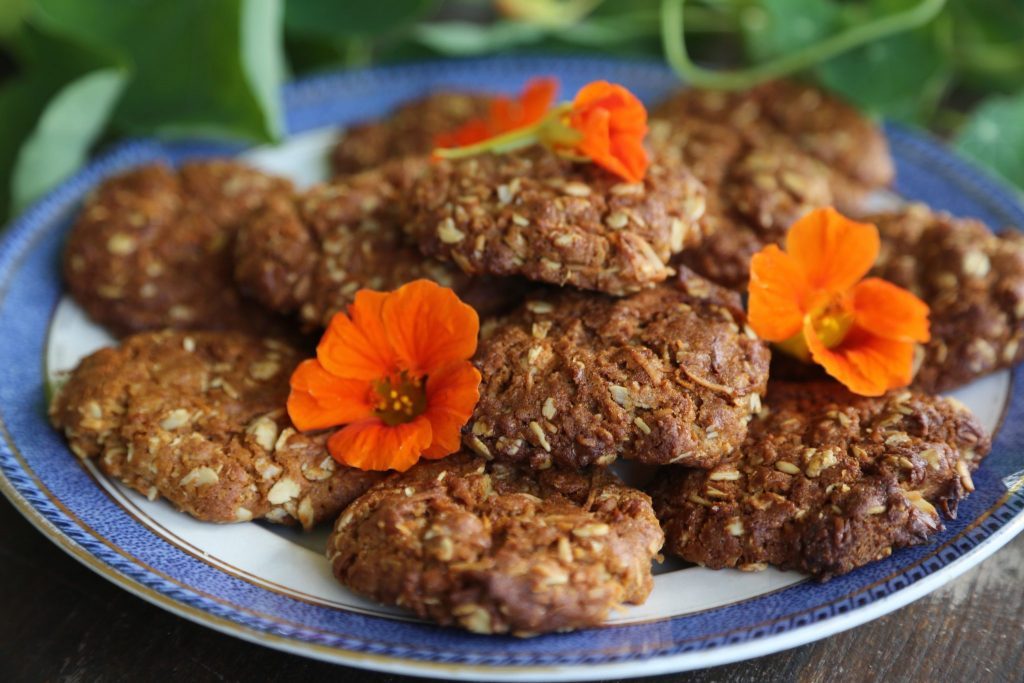 Anzac Biscuits with Reishi and Hemp Vegan Protein
The classic Anzac Biscuits now taste even better with our Vegan Protein Powder, enhanced with Reishi mushroom 🍄✨ If you are into Anzac Biscuits you will love this vegan protein enhanced twist on the traditional recipe.
INGREDIENTS
Makes roughly 30 cookies
1.5 cups of flour (we used spelt flour)
1.5 cups of shredded coconut
1.5 cups of flattened or rolled oats
2 scoops of

 Vegan Protein Powder

0.5 cups of sugar (coconut sugar is our favourite)
2 teaspoons of baking soda
150 grams of butter (coconut for vegan)
2 large tablespoons of honey, golden or maple syrup
Fresh flowers for serving
METHOD
1. Preheat oven to 180C and prepare two oven trays with baking paper or grease them
2. Combine flour, sugar, oats,
 Vegan Protein Powder 
and shredded coconut in a large bowl and mix together
3. Melt butter and honey/syrup in saucepan and stir, then remove from heat
4. Dissolve baking soda with a bit of hot water in cup, then add to butter mixture
5. When it's finished foaming, pour butter mixture into the bowl with dry ingredients and mix well.
6. Roll the mixture into balls and flatten onto trays. Bake for about 15 minutes or until the cookies turn golden
7. Let them cool down a bit, then dig in:)