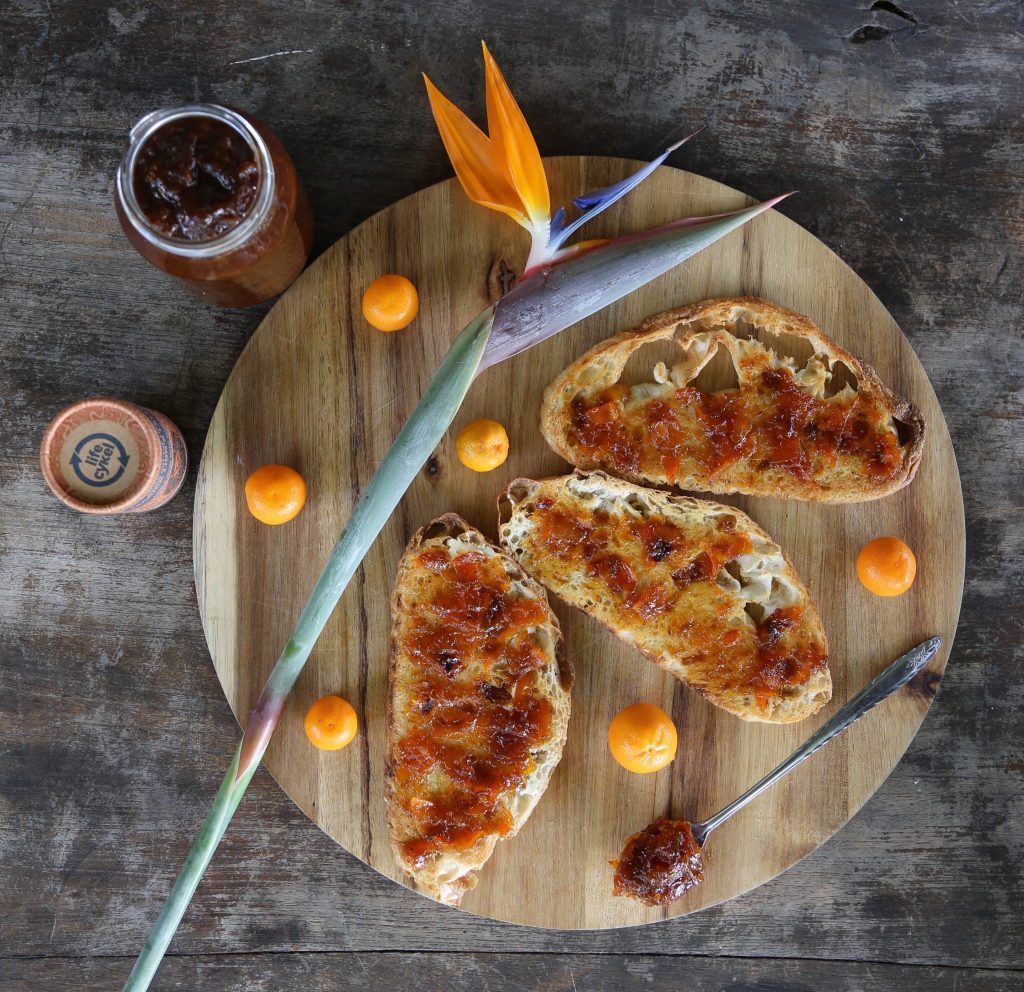 Lion's Mane Kumquat Marmalade
WHEN LIFE GIVES YOU KUMQUATS… MAKE LION'S MANE MARMALADE!
Though kumquats are full of vitamin C, we find them just a bit too sour to enjoy lots of them raw. So, what do you do when you have your kumquat trees exploding with these healthy orange balls? Exactly, you turn them into marmalade. Which is super easy by the way, and what's even better is that you can make your morning toast even more amazing by adding some Lion's Mane Latte to your marmalade for that extra focus and concentration – the perfect way to start your day!
INGREDIENTS
2 cups of sliced and pitted kumquats

juice and rind of 1 lemon
1 cup water

1 cup sugar

1 heaped teaspoon cinnamon
1 heaped tablespoon Organic Lion's Mane Maca powder
PROCESS
Prepare a jar/container for the marmalade; we like to recycle jars from foods that we've bought. Sterilise beforehand by boiling in water for 10 minutes.
Quarter kumquats, remove pips and white middle bits. Slice finely, see image below.
Place sliced kumquats in a pot, add water, lemon juice and rind, sugar and cinnamon. Let this sit for a couple of hours.
After resting them, bring contents of the pot to the boil then keep boiling on low heat. Stir every few minutes to avoid the marmalade sticking to the bottom of the pot.
When the marmalade thickens up (when you scrape through the middle it takes a moment before the two sides come together again, you might even see the bottom of the pot) add your Lion's Mane powder and stir through thoroughly.
Boil for another minute then remove from heat.
Transfer to your sterilised jar to cool down.
After a night in the fridge your marmalade should be perfect to spread on your morning toast!
Don't forget to share photos of your #LifeCykel Recipes with us at Facebook or Instagram 🙂